Infectious Diseases can spread quickly.
We can help.
When there is an infectious disease outbreak, you need a professional to take the appropriate steps to clean and apply disinfectant to contain the spread. For 25 years, Steri-Clean has been the nationwide industry leader in infectious disease cleaning and disinfecting services.
The topic of infectious diseases is more timely now than ever with the rapid spread of novel coronavirus (COVID-19 and SARS-CoV-2). See how Steri-Clean is responding to the COVID-19 outbreak here.
Since 1995, Steri-Clean has been disinfecting a wide variety of environments with exposures to Ebola, C. Difficile, Hepatitis, MRSA, Norovirus, other microorganisms, and now COVID-19. Steri-Clean uses only EPA-registered products, and when dealing with brand new microorganisms, we only use those documented on the EPA's "Emerging Pathogens" kill claims, which is COVID-19's current classification.
Steri-Clean's Industry-Leading Infectious Disease Control Services are Trusted by Commercial Buildings, Government Buildings and Public Transportation, Healthcare Facilities and Emergency Vehicles, Senior Living Facilities, Hotels and Other Residences, and Schools and Universities.
There are lives at risk, businesses that could be subject to liability, and a vulnerable population who needs and deserves a trusted professional to get the job done right, the first time.
A mass decontamination must be handled by a professional who can test and measure efficacy. This means that pest control companies, car detailers, carpet cleaners, and everyday janitorial companies are not properly trained or certified to perform a proper infectious disease disinfection. Not only are the appropriate EPA-registered, hospital-grade disinfectants required, so is fully enclosed personal protective equipment (PPE) with respirator masks for the health and safety of the individuals performing the disinfection service.
Steri-Clean Infectious Disease Control Services for Microorganisms & COVID-19
If there is an outbreak of any size in your area or you need additional information about mass decontamination, please contact Steri-Clean's knowledgeable technicians to get additional information.
Steri-Clean uses full personal protective equipment with respirator masks for our team of trained and specialized technicians. We provide a thorough cleaning first to remove biofilms from all surfaces, followed by a CDC-approved process and application of our hospital-grade, EPA-registered disinfectants with a broad spectrum kill claim. We offer disinfectant application through a number of methods, including: electrostatic, whole room misting systems, fogging, and direct battery-powered or mechanical spraying systems.
Honesty, loyalty and privacy are the driving forces behind every service we provide. Rest assured that Steri-Clean will step into any situation and allow any property to be safely occupied once again.
Call today. Our call center is open 24 hours a day, 365 days a year. 1-888-577-7206. 
Merely spraying disinfectant everywhere is completely ineffective on killing or controlling the spread of an infectious disease or virus.
To control the spread of infectious diseases, Steri-Clean offers the following advice:
Simply spraying disinfectants on countertops, door handles and other commonly touched surfaces is not enough to sufficiently rid the space of contagions.
Surfaces must first be cleaned with soap and water, or another alcohol- or bleach-based product to remove "biofilms," the cellular material left behind by human touch that blocks the disinfectant from effectively reaching and penetrating the virus.
To confirm a surface was properly cleaned, Steri-Clean utilizes ATP* monitors to test surfaces for cellular activity. Clean test results with minimal ATP ensures the surfaces have been cleaned enough to allow the disinfectant to penetrate any present viruses.
*ATP monitors test for Adenosine Triphosphate which is stored energy found in all cells. While viruses do not contain cells, the removal of biofilms and cellular activity on all surfaces assures our disinfectants can properly kill the viruses.
Once the surface is cleaned, Steri-Clean applies an EPA-registered, hospital-grade disinfectant listed as a disinfectant with an "Emerging Pathogens Claim" on the surface for the proper "dwell" time. If the disinfectant dries before the mandatory dwell time, it is completely ineffective.
Steri-Clean's offices across the nation have a deep knowledge of public safety, risk mitigation and fiscal responsibility and a proven history with private/commercial and publicly funded organizations.
If you or someone you know needs help with proper cleaning and disinfectant application, contact Steri-Clean for more information, or to receive a quote or qualified referral. For individuals wanting to properly clean their own home using a disinfectant, watch Steri-Clean's CEO Cory Chalmers outline the necessary steps on this video tutorial.
For more information, call Steri-Clean's nationwide 24-hour dispatch at (888) 577-7206.
MRSA| C-Diff| Swine Flu
A newly discovered and often deadly virus related to one that causes the common cold has struck another victim, this time in France.
A man hospitalized in April is infected with the novel coronavirus, France's Health Ministry said Thursday.
The NCoV virus was recently found for the first time in humans and scattered cases have occurred across parts of the Middle East, particularly Saudi Arabia.
It has proved deadly in more than half of the confirmed cases so far, according to the World Health Organization. Of 31 people with confirmed infections, at least 18 have died.
But infectious disease specialists believe the virus is very difficult to catch.
The newly infected man is the first confirmed infection in France, the Health Ministry said. He had recently returned from travel to the United Arab Emirates, which is on the Arabian Peninsula.
Identifying the source of the man's ailment took time, the ministry said. France's Pasteur Institute confirmed the case Wednesday. The Health Ministry is seeking anyone who may have had contact with the patient.
NCoV, like some common colds, is also caused by a coronavirus. And like a cold, it attacks the respiratory system, the Centers for Disease Control and Prevention have said.
But symptoms are severe and can lead to pneumonia and even kidney failure.
"Once it gets you, it's a very serious infection," said Dr. William Schaffner, an infectious disease specialist at Vanderbilt University Medical Center in Nashville.
NCoV has also been compared to related coronavirus, the one that causes SARS, or severe acute respiratory syndrome, which appears to have been contained in 2004, according to the CDC.
Although its discovery in humans is new, NCoV would seem potentially deadlier, when contracted, than SARS.
Of the some 8,000 verified cases of SARS, fewer than 800 people -- less than one-tenth of those infected -- died.
Methicillin-resistant Staphylococcus aureus (MRSA) is a bacterium that causes infections in different parts of the body. It's tougher to treat than most strains of staphylococcus aureus -- or staph -- because it's resistant to some commonly used antibiotics.
The symptoms of MRSA depend on where you're infected. Most often, it causes mild infections on the skin, causing pimples or boils. But it can also cause more serious skin infections or infect surgical wounds, the bloodstream, the lungs, or the urinary tract.
Though most MRSA infections aren't serious, some can be life-threatening. Many public health experts are alarmed by the spread of tough strains of MRSA. Because it's hard to treat, MRSA is sometimes called a "super bug."

What does MRSA look like?
The typical MRSA infection on the skin will form a pimple like sore. Within a day or two you may notice that unlike your typical pimple, the area keeps growing, is red and firm. Within a few days you may start to notice the top becoming white as the sac of puss is pushed nearer to the surface. These will usually need to be drained, cleaned and packed like the one in this photo. Special antibiotics will need to be taken to help fight the infection. Seek medical attention if you have one of these wounds. Do not wait until it spreads! Clean and disinfect areas like bathrooms, razors, towels and other commonly touched items to help prevent spread or re-infection once healed.

C-Diff (Clostridium Difficile)
Clostridium difficile, often called C. difficile or "C. diff," is a bacterium that can cause symptoms ranging from diarrhea to life-threatening inflammation of the colon. Illness from C. difficile most commonly affects older adults in hospitals or in long term care facilities and typically occurs after use of antibiotic medications. C-diff sickens about 500,000 Americans a year, contributing to 15,000 to 20,000 deaths, The epidemic strain has been found in 38 states, including Illinois. It now rivals the superbug known as MRSA as one of the top emerging disease threats to humans. Since its discovery, C-diff has grown increasingly resistant to antibiotics. Though it is appearing more often in younger people, those 65 years and older face a greater risk of developing infection from C-diff and have more severe outcomes and higher death rates.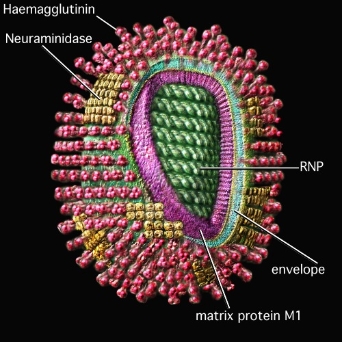 Swine Flu ( H1N1 influenza)
What is swine flu (H1N1)?
Swine Influenza (swine flu) is a respiratory disease of pigs caused by type A influenza viruses that causes regular outbreaks in pigs. People do not normally get swine flu, but human infections can and do happen. Swine flu viruses have been reported to spread from person-to-person, but in the past, this transmission was limited and not sustained beyond three people.
Is this swine flu virus contagious?
CDC has determined that this swine influenza A (H1N1) virus is contagious and is spreading from human to human. However, at this time, it is unknown how easily the virus spreads between people.
What are the signs and symptoms of swine flu in people?
The symptoms of swine flu in people are similar to the symptoms of regular human flu and include fever, cough, sore throat, body aches, headache, chills and fatigue. Some people have reported diarrhea and vomiting associated with swine flu. In the past, severe illness (pneumonia and respiratory failure) and deaths have been reported with swine flu infection in people. Like seasonal flu, swine flu may cause a worsening of underlying chronic medical conditions.
How does swine flu spread?
Spread of this swine influenza A (H1N1) virus is thought to be happening in the same way that seasonal flu spreads. Flu viruses are spread mainly from person to person through coughing or sneezing of people with influenza. Sometimes people may become infected by touching something with flu viruses on it and then touching their mouth or nose.
How can someone with the flu infect someone else?
Infected people may be able to infect others beginning 1 day before symptoms develop and up to 7 or more days after becoming sick. That means that you may be able to pass on the flu to someone else before you know you are sick, as well as while you are sick.
What should I do to keep from getting the flu?
First and most important: wash your hands. Try to stay in good general health. Get plenty of sleep, be physically active, manage your stress, drink plenty of fluids, and eat nutritious food. Try not touch surfaces that may be contaminated with the flu virus. Avoid close contact with people who are sick.
What surfaces are most likely to be sources of contamination?
Germs can be spread when a person touches something that is contaminated with germs and then touches his or her eyes, nose, or mouth. Droplets from a cough or sneeze of an infected person move through the air. Germs can be spread when a person touches respiratory droplets from another person on a surface like a desk and then touches their own eyes, mouth or nose before washing their hands.
How long can viruses live outside the body?
We know that some viruses and bacteria can live 2 hours or longer on surfaces like cafeteria tables, doorknobs, and desks. Frequent handwashing will help you reduce the chance of getting contamination from these common surfaces.
Our MRSA service includes MRSA cleaning, MRSA Disinfection and MRSA Prevention. Our Swine Flu, H1N1 service includes Swine Flu, H1N1 Cleaning, Swine Flu H1N1 Disinfection and Swine Flu H1N1 Prevention. Our service includes C-Diff recurrance prevention, Staph cleaning, Staph disinfection and Staph prevention.  Call today to speak with us or set up a free assessment of your particular needs and a free estimate.