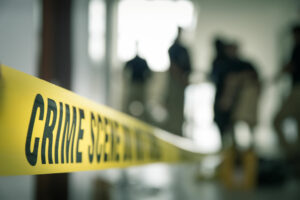 Each year in Nebraska, thousands of people die from varying causes. More than 1/2 of a million people in Nebraska live alone, and many will unfortunately die alone. Decomposition or undiscovered death is the most common call that Steri-Clean Nebraska receives. After 24 to 48 hours, a body that lays deceased and undiscovered begins to break down and will release fluids from decomposition. These fluids contain dangerous bacteria and pathogens and will contaminate any surface they come in contact with and create a terrible odor. Most often, it is this odor that alerts neighbors that something is wrong.
So what do our services for undiscovered death entail? Steri-Clean of Omaha Nebraska cleans and sanitizes all scenes involving human decomposition by removing the fluids and odor associatied with the death in their entirety. It is critical that people untrained in biohazards, or unprotected persons not enter the area involved, and more importantly, they do not make any attempt to clean it. Steri-Clean Nebraska has specialized tools, highly technical equipment, and the proper cleaning agents which will completely return a scene involving decomposition back to a safe environment. In fact, we provide a "Safe to Occupy" letter guaranteeing it. Call the caring and compassionate Steri-Clean for information on our services, how to schedule our services, and inquire about insurance covereage for cleanup, (402) 800-1205.
Steri-Clean of Omaha Nebraska is the local provider of specialized blood and biohazard cleaning for those in need. We are here for all local residents, businesses and government agencies to help them with crime scene cleanup, suicide clean up, blood clean up, accident clean up, and death clean up. We also clean dangerous illnesses like Ebola, MRSA and C-Diff, as well as outbreak control for flu's like the Norovirus and other infectious bugs. Our highly trained Nebraska team are also experts at automobile decontamination. Our services are available in all of Nebraska including Omaha, Lincoln and all surrounding communities
Friends, loved ones, and family members should never volunteer or be asked to clean up a crime scene, suicide scene or trauma scene. Steri-Clean's services will not only relieve you of the tremendous emotional burdon, but our services are most often covered by homeowners, auto, and commercial insurance policies! If you need help with crime scene cleanup or blood clean up in Omaha or anywhere in the state of Nebraska, or have any biohazard disposal need, call the 24 hour services of Steri-Clean at (402) 800-1205
***We Bill Your Insurance!***
Steri-Clean of Omaha responds to assist families, businesses and government agencies after somone commits the unthinkable act of suicide or attempted suicide. Steri-Clean removes the blood and bodily fluids and restores the scene to as normal of a condition as possible. Our services are utilized for suicide and attempted suicide whether a gun, knife, or other weapon was used. We also respond after overdoses and ingestion of poisons to assure the scene is sanitized and left in a safe state.
We promise our customers that we will provide rapid but thorough cleaning procedures that leave the once infected areas completely clean. Steri-Clean of Omaha Nebraska can quantify our work by testing surfaces both before and after our cleaning leaving you with no guess as to how clean the surfaces are. While we cannot gaurantee it, oftem times our services are covered by homeowners insurance, commercial insurance, and if a car was involved, the auto insurance policey may very well cover it. Call our discreet Steri-Clean Nebraska team to learn more about our professional but affordable services at (402) 800-1205.
Omaha and surrounding communities have the security in knowing that Steri-Clean can assist your residents and business owners with any biohazard cleanup needs discreetly and affordably.