Cory Chalmers
President
Cory Chalmers founded Crime Scene Steri-Clean in 1995 while working as a paramedic and seeing a huge need to help people in crisis. In 1997, Cory was hired as a firefighter in Orange County California where he promoted quickly from firefighter to paramedic, and then to Captain. In 2011, Mr. Chalmers retired from the fire department in order to pursue the growth of his company to help those in the face of tragedy. His knowledge of city budgets, contracts, PO's, S.O.P.'s and budget restraints is key in contracting his services with over 4 dozen cities that Crime Scene Steri-Clean is contracted by. He has 14 years experience as a paramedic, 14 years with hazardous materials and emergency management, as well as biohazard response and remediation since 1995. Cory is often asked to be the keynote speaker at conferences and seminars throughout the United States and has been featured on a dozen or more television shows including his regular appearance with "Hoarders" on A&E. He is responsible for the rapid growth of Crime Scene Steri-Clean from an owner operator, home-based business to a multi-million dollar company with locations throughout the United States. Cory runs a worldwide Yahoo Talkgroup on crime scene cleanup as well as several websites to assist the public with valuable resources and information in their time of need. He is well known throughout the world as an industry leader.
Kelley Collins
Chief Operations Officer
Kelley Collins is our Chief Operations Officer and oversees all functions of corporate owned offices. He is a highly motivated and goal-oriented manager offering 20 years of experience in Business Management. Some of Kelley's greatest strengths would be his commitment, determination, and enthusiasm for what he does. Equally as important, Kelley enjoys his job, particularly developing and implementing successful initiatives, developing long-term strategies, and to create a strong and stable business environment. Kelley lives in Murrieta California with his wife Katherine Collins and their three boys. When not working, Kelley enjoys spending time with his family.
Jaime Frisbie
Director of Finance & HR
Jaime is another huge success story here at Steri-Clean. Jaime actually started with us as a volunteer at our first ever Happy Hoardidays event. Since that time, she has promoted from our Receptionist position up to our Director of Finance and Human Resources in just a few years. Jaime has provided our company with an eye for detail and catches every little mistake that crosses her desk. Her ability to solve problems and work independently is of great value to our company. We definitely look forward to what else Jaime can offer us!
Jhonathan Barrios
Bay Area Operations Manager
Jhonathan holds a Bachelor of Science in Business Administration, and is backed with more than 18 years of providing outstanding customer service, and project management leadership in Philadelphia, Pa. and San Ramon, Ca. Most recently, he has provided in-depth account analysis as an Account Representative for a nationwide credit corporation. Prior to his relocation to California, he served as a Project Manager for ten years at a high end custom made furniture company in Philadelphia. Throughout the years, he has demonstrated not only his passion for delivering quality customer service and project management leadership in getting things done even beyond expectations, but also his innate skills in building and sustaining strong professional relationships with colleagues that ensured working relationships to achieve shared commitments. On his free days he likes to spend time with his wife and four legged family member, Lucky. Either out for a walk in the park, a long drive, and sometimes even a flight to the east coast to visit family.
Natalie Miramontes
Project Manager
Natalie is the current Project Manager with Steri-Clean. She holds a Bachelor of Arts from the University of Las Vegas in Criminal Justice. Mrs. Miramontes is also a certified Construction Health and Safety Technician through BCSP. Natalie has years of prior experience in project and operations management. She has always loved helping people and knowing that she is making a difference. Natalie and her husband are blessed with a 2-year-old son. She loves fishing and spending time with family and friends.
Todd Robertson
Project Manager
Todd is located at our Northern California office and has been in the field since 2009. He loves being able to go to work every day and help people change their lives for the better. Todd started at Steri-Clean as a Jr. Field Technician, was promoted to Lead Technician, Field Supervisor and has continued to excel to his current position as Project Manager. Todd takes pride in his work and is detail oriented. In his spare time, Todd likes to go on trips with his wife, making music, going for drives on the coast and spending time with family.
Steve Shopa
Field Supervisor | Trainer
Steve is a graduate of Indiana University with a Bachelor of Arts degree in English Literature. He was born and raised in northern Indiana and moved to California about 7 years ago. Steve's employment background includes: outside sales, account management, home remodeling, and customer service. Steve started with Steri-Clean at the beginning of 2012 as a Jr. Field Technician. Since that time, he has been promoted several times from Lead Technician to now Field Supervisor. Steve's responsibilities include: supervising Jr. and Senior Technicians in the field, warehouse and vehicle maintenance, and training all newly hired Technicians. Steve still leads some of our jobs in the field as well. Steve possesses a lot of on the job expertise, so he assists with all Franchise Training. Steve is passionate about our team, our clients, and demonstrating our company's core values. He enjoys spending time with friends, family and his new puppy Sugar Bear.
Stephanie Decarvalho
Office Manager
Stephanie Decarvalho joined the Steri-Clean team in 2017 working as the Northern California Office Manager. Stephanie has 15 years' experience in accounting and great customer service skills. She is a mother to 3 amazing children ages 1, 10 & 11. She has been married to her high school sweetheart for 16 years. They love going camping & spending time outdoors. Stephanie is a great asset to our team and loves helping others.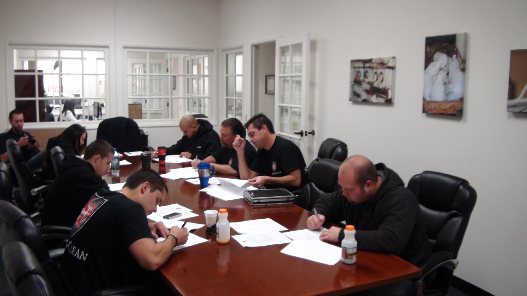 Biohazard Technicians
Steri-Clean maintains a staff of around 24 highly trained biohazard technicians. They are all trained in blood borne pathogens, disease exposure and prevention as well as crime scene cleanup, tear gas remediation, odor control, lead based paint and proper disinfection techniques. Through initial training upon hiring and mandatory monthly safety/training sessions, you won't find a more qualified team anywhere. They respond 24 hours a day to biohazard scenes throughout their respective service areas and are recognized as the leaders all across the nation.